3 Days in Dubai – The Best Spots to See and Places to Go
Dubai is a modern world city like no other. It is the biggest and most populated city in the United Arab Emirates. But hidden beneath its sleek, futuristic appearance is a city of contrasts – from shiny shopping malls to 5-star hotels and exotic beaches to vast desert landscapes.
Among these are some of the best Dubai tourist attractions. This guide will tell you where to go in Dubai and how to make the most of your stay.
During our 3 days in Dubai, we discovered that the people of this largest and most populous of the United Arab Emirates (UAE) strive for excellence, also in their tourism industry. It isn't far-fetched to expect world bests around every corner.
Some of the more popular Dubai tourist attractions include the world's tallest building (the Burj Khalifa at 828m), the tallest hotel (the JW Marriott Marquis at 355m), and the tallest residential building (the Princess Tower at 413m).
Soon, the world's highest structure overall will be added to the list of awe-inspiring Dubai tourist spots. The Tower, an architectural masterpiece in the Dubai Creek Harbor development, is expected to rise above the city before 2020.
Based on our 3 days in Dubai, here are my recommendations for your next trip to the Emirate. I hope it will inspire you to discover the best Dubai tourist attractions that left an indelible impression on us.
Marvel at the Luxury of the Burj Al Arab
The distinctive sail shape of the Burj Al Arab hotel is a famous landmark on the Dubai skyline. Built on an artificial island, Burj Al Arab is 321 meters tall, boasting the world's tallest hotel atrium.
One of the top Dubai tourist spots, the Burj Al Arab Jumeirah can easily call itself the world's most luxurious hotel based on the votes of those who've stayed there. Where else are very important guests welcomed with a personal fireworks display? Or is your cappuccino sprinkled with gold dust? Guests can also get used to the site of a Rolls-Royce fleet on the forecourt. Or arriving in an underwater aquarium restaurant via a simulated submarine voyage.
One of the top Dubai tourist spots, the Burj Al Arab Jumeirah can easily call itself the world's most luxurious hotel based on the votes of those who've stayed there. Where else are very important guests welcomed with a personal fireworks display? Or is your cappuccino sprinkled with gold dust? Guests can also get used to the site of a Rolls-Royce fleet on the forecourt. Or arriving in an underwater aquarium restaurant via a simulated submarine voyage.
Stand on the World's Highest Observation Deck at Burj Khalifa
If dizzying heights are your thing and you like to marvel at modern architectural masterpieces, Burj Khalifa will take your breath away.
Did I mention that Burj Khalifa is the tallest building in the world? No other building comes close to its 828 meters over more than 160 stories. But that's not the only record it holds to give it a spot among the top Dubai tourist attractions. The building can write the following other records behind its name:
Tallest free-standing structure

Highest restaurant, called At.mosphere

Highest outdoor observation deck

Elevator with the longest travel distance
It's so worth traveling to the 124th floor of the Burj Khalifa for a bird's eye view of Dubai from the At the Top observation deck. You can even take it one step (okay, a few stories) further by taking a dedicated elevator to the At the Top, Burj Khalifa SKY lounge on the 148th floor. Tickets start at AED 125.
Tip: Keep an eye out for some of the more than 1,000 specially commissioned artworks from renowned artists throughout the building.
Shop with the Rich Locals at Dubai Marina
The Dubai Marina, an artificial canal city which is also referred to as New Dubai, is home to some of the city's most affluent residents. Impressive skyscrapers line the canal, with the residents' multi-million-dollar yachts anchored by the marina.
If you are on a tight time schedule and don't know where to go in Dubai with limited time, there is plenty to see and do in the Dubai Marina – from shopping and dining to riding on a camel on Jumeirah Beach Residences' (JBR) beach. If there ever was an upmarket beach promenade to stroll along, it's The Walk at JBR. It's a buzzing boulevard filled with exclusive boutiques and even a small outdoor market called the Covent Garden Market.
Also, check out the latest shopping area simply called The Beach. And if you get tired of shopping, watch a movie at the open-air cinema or sip o latte or cocktail while watching the street performers.
For something completely different, take a leisurely cruise through the Dubai Marina on a traditional Dhow. It's a great way to see the impressive architecture around the marina up front from the comfort of a beanbag and with a drink in hand.
Jumeirah Beach is probably one of the world's most luxurious beaches, making it one of the most popular Dubai tourist spots. The beach is named after the Jumeirah district of Dubai, stretching from the historic center to the Jumeirah Beach Residence next to the Dubai Marina.
The long stretch of soft white sand that makes up Jumeirah Beach is mostly broken up into the private beaches of the many 5-star and upmarket hotels and residential developments lining the beach. Naturally, it provides superb views of the Burj Al Arab.
Fortunately, you can still enjoy Jumeirah Beach even if you're not staying in one of the hotels or apartments. The Jumeirah Beach Park is a public beach with impressive facilities where you can either relax on the hot sand or on one of the beautifully tended lawns. It's the perfect place for a picnic or barbecue.
The Dubai Miracle Garden in the Desert
Didn't expect one of the world's biggest flower gardens in the middle of the desert? The Dubai Miracle Garden is another of the Dubai tourist attractions which pleasantly surprised us. Sprawled across 72,000sq/m in Al Barsha South, the Dubai Miracle Garden is a colorful fairy tale world of more than 100 million flowers.
Not only Dubai's buildings are breaking world records. The Dubai Miracle Garden holds a Guinness World Record for the largest flower structure. You also can't miss the Airbus A380 or the ceiling of brightly colored umbrellas – definitely a highlight of our 3 days in Dubai.
There are more than 77 flower varieties in the Dubai Miracle Garden. Whoever is responsible for the flower structures don't only have green fingers, but red, yellow, orange, purple and pink ones too! The entry fee of AED 40 per adult is well worth it.
Dubai Frame – The World's Best New Attraction?
This huge "photo frame" of 150 meters high and 93 meters wide in Zabeel Park has been named one of the world's best new attractions of 2017. Naturally, it is set to become one of the top Dubai tourist spots.
If you, like me, are wondering how Dubai managed to achieve so many world's bests, becoming a playground for the rich and famous, the Dubai Frame provides all the answers. A museum on the ground floor will showcase the city's transformation from a fishing village to a metropolis. The location was carefully chosen to give visitors the best view of old (areas such as Deira, Karama, and Umm Harare) and new Dubai (landmarks such as Burj Khalifa and Emirates Towers).
The Dubai Frame truly is a new monument in Dubai. It's two towers are connected by a 100sq/m bridge with a 25sq/m panel at its center.  Award-winning architect Fernando Donis was responsible for the design. Admission is AED 50 per adult.
Be Dazzled by the Old Gold Souk in Deira
If you love bling, you'll love the Gold Souk in Old Dubai. The traditional market in the commercial business district Deira is a dazzling labyrinth of walkways where gold, silver, platinum, and diamonds compete to catch your eye. With 3 days in Dubai, even if you don't intend to buy anything, a visit to the Gold Souk is a fascinating experience.
Gold Souk Buying Tips:
Don't just accept the first price you are given. Always barter. The weight element of the price is set but the cost of the workmanship not. By taking your time to shop around and barter, you can save up to 30%.

Credit cards are accepted in most stores but you will be able to negotiate an even better price if you pay cash.

Always buy from one of the shops inside the Souk. They adhere to strict government quality guidelines while street vendors don't. You don't want to walk away with a fake Rolex now, would you?
The Old Gold Souk is open 7 days per week from 10am to 10pm. Some shops may close between 1pm and 4pm certain days.
Leave the City behind on a Desert Safari
Knowing where to go in Dubai to explore outside the city borders is easy with many tour operators offering desert safaris. We loved the contrast between the bright city lights of modern Dubai and the dunes and wildlife of the desert. Our tour with Platinum Heritage lived up to all our expectations.
The vast desert is not only beautiful, but we learned so much about the conservation efforts during our drive through the Dubai Desert Conservation Reserve. Getting to know the Bedouins and their history, interacting with them and their camels is an authentic desert experience. The desert easily deserves a place on my list of best Dubai tourist attractions.
You don't go hungry or thirsty in the desert, either. The typical local food served in a traditional setting is something to write home about.
Tip: If you have 3 days in Dubai, set aside at least a morning or an afternoon for a proper desert experience. Afternoon tours ending with dinner next to a bonfire under the stars are also highly recommended. 
If you run out of ideas of where to go in Dubai, why not take to the sky in a hot air balloon? A hot air balloon tour will give you a different perspective of the Dubai tourist spots and the desert. And it's much less bumpy than a camel's back! The balloons take you up 1,200 meters above the dunes. They are also pretty to watch from mother earth, filling the skyline with their bright colors.
The cost of a hot air balloon ride over the desert, including a visit to a traditional Bedouin Camp, breakfast and a falconry demonstration starts at AED 1195 per adult.
We stayed at the Four Seasons Resort Dubai at Jumeirah Beach during our 3 days in Dubai. It was so nice to come back to our lovely big room and to have direct access to 270 meters of natural beach to relax after a day of sightseeing.
We simply had to have cocktails in the Mercury Lounge, the Four Seasons Resort Dubai's rooftop bar with magnificent views of the Dubai skyline and the Burj Khalifa on one side, and the Arabian Gulf on the other.
More Reasons to Stay at the Four Seasons Resort Dubai
The smallest room is a spacious 70 sq/m.

You can be adventurous and try kayaking or stand-up paddleboarding right from your private stretch of Jumeirah Beach.

Peace and quiet and more relaxation are to be found in the adults-only pool just steps from the beach. Once you get comfortable on a lounger under a palm tree it will be hard to convince yourself to get up to go exploring.

Beauty and wellness treatments in the Pearl Spa are pure indulgences to perfectly round off your 3 days in Dubai.
General Tips for Your Stay in Dubai:
Getting around the city is easy with the Dubai Metro.

Visit the Bastakia Quarter for a better insight into the history and culture of Dubai.

The best time to visit Dubai is from November to March when it's not as sweltering hot. However, you might be unfortunate to experience some overcast and rainy days.

Don't miss a "performance" by the Dubai Fountain, the world's tallest performing fountain on Burj Lake. It's one of the few free Dubai tourist attractions if you watch from the shore but you can also pay for front row seats from a boat on the lake.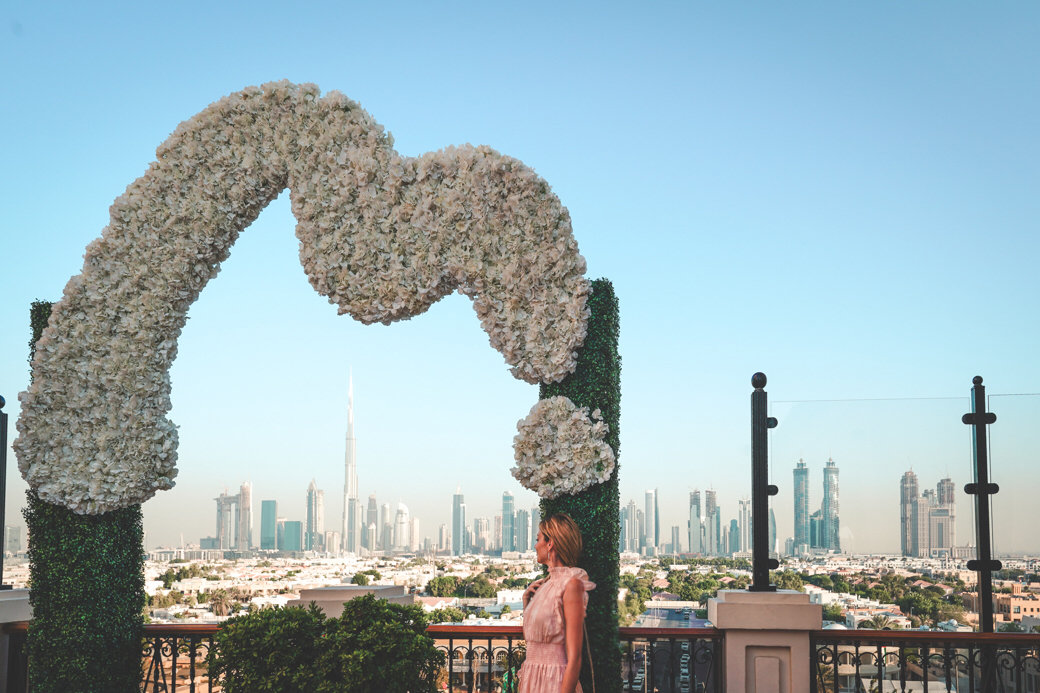 5 Travel Mistakes to Avoid in Dubai
1. Dressing inappropriately
Remember to keep the dress code in mind when considering where to go in Dubai. Sure, you can wear a bikini or skimpy clothes when relaxing on one of the beaches, but take care to cover more body parts when moving around in other parts of Dubai.
Although female tourists are not expected to cover their entire bodies like local women typically do, avoid wearing shorts, miniskirts, low-cut dresses or shirts, and anything midriff-baring. Likewise, men are expected to wear long pants and shirts with a sleeve, even if it is a short sleeve.
2. Drinking too much alcohol
Not only is drinking and driving taboo in Dubai but also being drunk in public. Alcohol laws are strict, with alcoholic drinks mainly allowed in hotel bars and not in public at the Dubai tourist spots.
Even if you drink in a hotel bar, know when to stop. You don't want to spend the night in a Dubai jail because you appeared drunk in public, or worse, were caught driving under the influence.
3. Not adhering to Ramadan practices
Muslims fast until sundown during the Holy month of Ramadan. This is a time when the otherwise frenetic pace of Dubai slows down and visitors can experience a more traditional side to the Emirate.
Ramadan requires that everyone, including non-Muslims, refrain from eating, drinking, or smoking in public. However, many restaurants remain open during the day, accommodating Ramadan by serving meals behind screens. The fast ends with the firing of cannons at sunset.
4. Taking pictures of people without their permission
It doesn't matter how interesting someone looks, it's unforgivable to take a picture of a local in Dubai without asking their permission. The chances are good they will say no and you should respect their answer. It's especially taboo to take photos of women without their consent
5. Unacceptable public displays of affection
Kissing, holding hands, and any other form of public affection are socially unacceptable in Dubai. People have been arrested for being too lovey-dovey in public. Keep this in mind if you're considering a romantic getaway or even a honeymoon in Dubai.
Have you been to Dubai? Any tips and recommendations?
Which was your favorite spot? Comment below!