Swimming with Pigs and Sharks on a Day Trip to the Exumas, Bahamas
A highlight of our trip to Paradise Island in the Bahamas was a day trip from Nassau to Exuma. Where else in the world can you swim with sharks and visit a pig island and Iguana beach on the same day? The Bahamas is an island nation made up of over 700 islands. The islands, of which 16 are tourist destinations, are divided into 3 parts – Nassau, Grand Bahamas, and the Out Islands. While the Exumas are part of the Out Islands, many of its visitors are day trippers from Paradise Island off the coast of Nassau.
Paradise Island is a small resort island of just over one square mile and perhaps best known for the world-class Atlantis resort. The beaches, water park rides, hotels, restaurants, and casinos are what draws million visitors every year to Nassau and Paradise Island. Given their position between the Atlantic and Caribbean, only a few hundred miles from the coast of Florida, Nassau and Paradise Island are easily reached from the US.
Day trips from Nassau to Exuma are very popular due to the variety of amazing things to see and do. Who doesn't want to go swimming with pigs in (the) Bahamas? Or laze around with oversized lizards on Iguana Beach? And if you've always wanted to swim with sharks, this is your chance to swim with the friendly nurse shark.
Exuma is a chain of small islands also known as the Family Islands. The area is filled with cays, which are small, low banks that are often filled with coral, sand, and rocks. Big Major Cay, also known as Pig Island, is one of them.
Getting to the Exumas is easy by air and see. Mainland Great Exuma is home to the Georgetown International Airport, while ferries and speed boats take day-trippers to Exuma from other islands such as Paradise Island.
There are many reasons to love the Bahamas beside swimming with pigs. For example, after a day trip from Nassau to Exuma you can return to a wealth of cultural and entertainment activities on Paradise Island.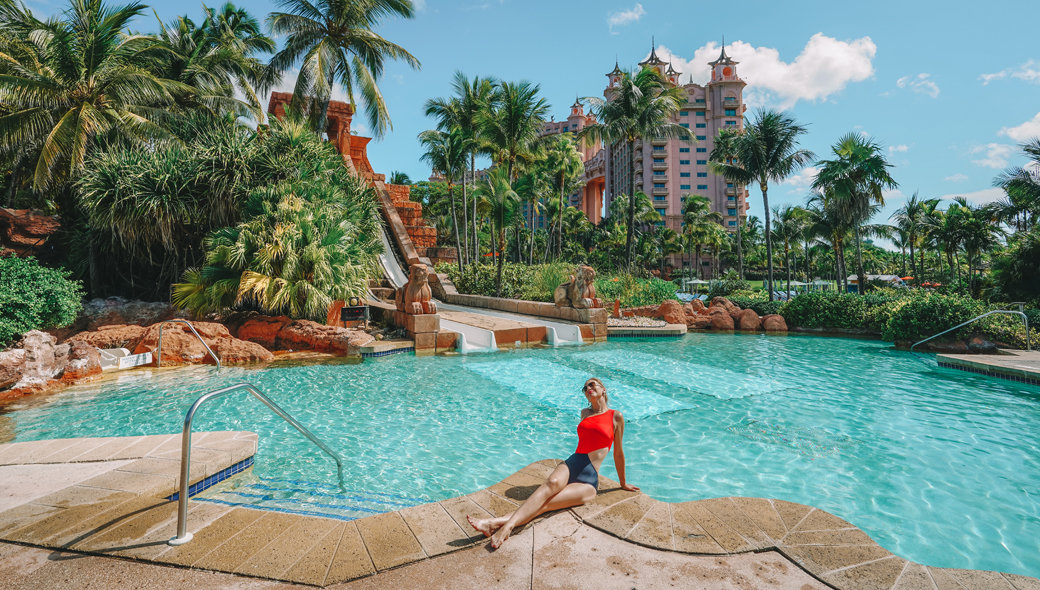 Many people return for another taste of the delicious Bahamian food, an eclectic combination of southern American and Caribbean styles. A must-try is Conch, the shellfish that's also the island's national food. It comes in many forms, from conch soup to conch pizza and conch fritters.
Rich and famous love visiting the Bahamas. Some of them have gone so far as to buy homes in the Bahamas.
Day Trips from Nassau to Exuma
There are different day trip options from Nassau to Exuma to suit all kinds of itineraries and budgets. When planning a trip, the main thing is to decide whether you want to go on your own or join a guided tour.
Getting from Nassau to Exuma is easy – whether you want to go swimming with pigs in (the) Bahamas, visit Iguana Beach or swim with sharks.
By sea, you can travel from Nassau with Bahamas Ferry Services. Or there's a mailboat that stops at several towns on a frequent basis.
It's also possible to fly to the Exumas from Nassau. If you want to see some of the sites between the mainland and Pig Island, like the Iguana beach,  you can take a day excursion flying Bahamasair or Sky Bahamas.
If you only want to go swimming with pigs in (the) Bahamas, flying directly to Staniel Cay with Flamingo Air is a good option. The frequency of flights will depend on the time of year but both Bahamasair and Sky Bahamas will fly you in in the morning and out by evening.
We opted for an organized, guided tour. Because there's so much to see and do (you can visit over 50 islands in one day if you really want to), we let someone else take care of travel arrangements and share their local knowledge with us.
The Famous Swimming Pigs Tour Bahamas is a full-day powerboat trip from Nassau to Exuma. Yes, it's a full day but the experiences on Pig Island, Iguana beach and swimming with a nurse shark are unforgettable.
A good time of the year for a day trip from Nassau to Exuma is in May. December is the high season but even so, some people may find the water too cold for swimming with pigs in (the) Bahamas. In April, the Regatta draws big crowds and in summer you have the usual high number of summer tourists. If you can't go in May, try March. June to November is the hurricane season.
What You Can Expect on a Powerboat Tour from Nassau to Exuma:
Fast traveling between the highlights of the Bahamas;

Unobstructed views of the Exuma Cays;

A bonus visit to a beautiful hidden beach.
The first stop on our day trip from Nassau to Exuma was Allen's Cay where a great many giant lizards waited on Iguana Beach for us to feed them.
Allen's Cay, on the far northern tip of the Exumas chain, is one of the few places where you can still find the fearsome looking creatures. But don't worry, the lizards of Iguana Beach are friendly and welcoming to visitors who bring them gifts of grapes, vegetables and other treats. It doesn't really matter what time you arrive – if the sun is shining the lizards will be out.
No one associates lizards with being huge. However, those on the Exumas Iguana Beach can weigh up to 24 pounds. They are the largest natural land vertebrate in the Bahamas and can easily get 40 years old.
How to Behave on Iguana Beach:
Don't feed the iguanas just anything. Their behavior has already changed because of the way they're getting fed. Limit their treats to fruits and veggies. Grapes, fed on a stick, are popular. Avoid putting food on the sand of Iguana Beach. Ingesting sand may harm the lizards.

Be prepared for some bold behavior by some of the lizards on Iguana Beach. While many remain cautious around people, others may climb onto you in their quest for food. Make sure they don't mistake your fingers or toes for food!
Interesting fact: The Allen's Cay Iguana is one of seven subspecies of Bahamian Rock Iguanas. They are endangered (although it might not look like it when they all come running towards you!) and thus protected by law.
The last thing you expect to emerge from the crystal-clear waters when traveling between the 365 tiny Bahamian islands and cays which are the Exumas, is boorish, snorting pigs looking extremely happy to see you. 
The "locals" at Big Major Cay or are the only inhabitants of Pig Island, as it is commonly called. There are many theories about how it came about that you can go swimming with pigs in (the) Bahamas but none have been proved without a doubt. As a result, the myths and legends surrounding the swimming pigs continue to grow.
Local legends have it that the pigs were the only survivors of a shipwreck or that they're an uneaten pirates' meal. The most recent explanation is from a man who claims to have brought the animals to Pig Island just before the turn of the millennium in case a Y2K computer meltdown caused a food shortage.
What there's no doubt about, is that the swimming pigs of the Bahamas are well adjusted to their tropical home. They love spending time on the beach and frolicking in the water.
Since visitors are now also coming with food for the pigs, they don't even have to forage in the forest any longer. Sadly, this has led to the death of some pigs due to sand ingestion when trying to gobble up the food thrown at them by tourists.
Tip: If you really want to bring the residents of Pig Island something to eat, feed them in the water. Also, limit the food to "snacks" such as carrots, pitted fruit or vegetables.
So, can you really go swimming with pigs in (the) Bahamas or is it just a marketing strategy? Swimming with pigs in the Bahamas is in fact a very real experience. You've got to believe that they come paddling towards you with their snouts precariously sticking out above the water.
However, there are some basic measures to keep in mind for an enjoyable and safe experience when swimming with pigs in the Bahamas. Unfortunately, some people don't know how to behave around the animals on Pig Island. In return, this has had a negative influence on the behavior of the pigs.
A Few Things to Look Out For:
Don't tease the pigs, attempt to ride them or throw things at them;

Beware of taking selfies when swimming with pigs in the Bahamas, especially if it means you must take your eyes off the animals. Pigs don't see very well and things can turn bad if they confuse your action camera or mobile phone for something to eat;

Even though they look much more gracious in the water, the pigs remain, well, pigs. And they don't go rushing out of the ocean when they have to make a poo. So keep your mouth closed if you want to see what they look like under the water;

Try to visit Pig Island first thing in the morning before the crowds arrive. Later in the day, you may find the pigs have left the water because they've received too much to eat and just want to laze around on the beach.
Good to know: The boorish inhabitants of Pig Island are well protected against storms in hurricane season. They are taken to a shelter by a local water sports company.
Swim with Sharks – the Docile Nurse Shark
The pigs might be the most famous, but they are not the only animals you can get up close and personal with in the Exumas. We learned this when swimming with sharks in Compass Cay.
The school of nurse shark at Compass Cay may look intimidating but they are happy for you to hop in the water with them. There's really no reason to be scared to swim with sharks if they happen to be nurse shark.
The nurse shark is so docile that it's called the "couch potato of the sea".  According to Sharksider, they are a favorite shark among divers to swim and snorkel with because you can get up close to them and still feel very safe. Their gentle nature and social behaviors dispel the myths that sharks are ferocious, solitary man-eaters.
But just as with any wild animal, there are certain basic things to keep in mind when getting up close and personal with a nurse shark.
Remember when you swim with sharks, you are in their habitat and not the other way around. Be respectful of it.

Stay away from their mouths when you swim with sharks, even if it is a docile nurse shark. Their jaws are super strong with thousands of small but razor sharp teeth, and they have the ability to suck like a vacuum.

You can pet a nurse shark, but limit the touching to its back. And NEVER pull on its tail.

Stay calm when you swim with sharks in the Exumas and they bump into you. This could happen when they scramble for the food thrown at them by their owner. Don't ever try to hand-feed a nurse shark.

Have your camera ready when you swim with sharks in the Bahamas. The nurse shark is very photogenic and you don't want to miss out on a great shot.
Famous People Who Have Homes in the Bahamas/Exumas
The Bahamas is a favorite vacation destination of the rich and famous. Therefore, it comes as no surprise that many of them own homes in the Bahamas, and specifically in the Exumas. It's become somewhat of a celebrity hideaway.
On our trip from Nassau to Exuma, we discovered the following famous people have homes on the islands:
A day trip from Nassau to Exuma easily takes 8 to 9 hours but it's worth every minute. To feed giant lizards on Iguana Beach and swim with sharks are already bucket-list experiences. To go swimming with pigs in (the) Bahamas is the ultimate bucket list experience.  
The iguanas, the nurse shark, and the residents of Pig Island can't be more different. But they all call a breathtakingly beautiful beach on an island in the Bahamas home. It's this diverse, yet similar experiences that make a visit to Exumas unforgettable. I can only dream that one day I may be able to afford my own piece of the Exumas and call the likes of Faith Hill, John Travolta and Bahamian Rock Iguanas home!
Have you traveled from Nassau to Exuma? Did you experience the Iguana Beach and the Pig Island?
Have you ever swum with sharks? Comment below!
Outfits Featured in this Post