The Absolute Best Things to Do in Cappadocia, Turkey
The otherworldly landscape of Cappadocia, Turkey awaits visitors to the ancient Goreme Valley. It's a place where one can marvel at the results of natural and human activity for a period of more than 3,000 years.
A UNESCO World Heritage Site, Cappadocia is especially known for the network of tunnels and caves carved into the rocks. And if you've seen pictures of a hot air balloon in Turkey, it's probably floating over the Goreme Valley.
Fast Facts About Cappadocia
Cappadocia is in the Central Anatolia region of Turkey, about 730km from Istanbul and 285km from the Turkish capital, Ankara.

In 2017, more than two million tourists visited Cappadocia's museums and archeological sites.

Cappadocia's population of around 5,000 people are largely employed in the tourism industry.
Things to Do in Cappadocia
Of all the things to do in Cappadocia, this is the most exhilarating by far. I can totally understand why almost half a million people take to the skies each year to float among the fairy chimneys of Cappadocia's underground cities.
The idea of so many balloons in the air at once can be scary. However, Cappadocia has a very good safety record when it comes to hot air balloons in Turkey. The pilots undergo at least 15 months of training and have 200 flight hours behind them by the time they're allowed to accompany tourists.
Take a look at these regulations for an operator of a hot air balloon in Turkey. It put my mind at ease and I'm sure it will do the same for you:
No more than 100 hot air balloons at a time may fly over Cappadocia.

Pilots must be able to speak English at A2 level at least. This sounds insignificant, but it's very reassuring when the safety measures are explained to you in understandable English!

All balloons must have the latest GPS devices on board.

Every three months, a grab or tear or rip test of the balloon is required. This involves checking the balloon material for brittleness due to the heat.

Balloons must be replaced after 1,000 hours of use, which is around every four to five years in Cappadocia.
You will be amazed at how quiet it gets in the basket despite the presence of so many other balloons. What would a photo of the Cappadocia skyline be without the colorful addition of all those balloons?
Nevertheless, the sound of the flame above you is sometimes the only thing you hear. That's if no-one is ooh-ing or aah-ing about the incredible scenery under and around them. Apart from the fairy chimneys, you will also see Imagination Valley, Monk's Valley, cave houses, vineyards, and the famous pigeon houses between Goreme and Uchisar. 
Is it worth riding in a hot air balloon in Turkey? In Cappadocia it is! Here are some answers to some of the basic questions to help you plan your trip.
What does it cost to go in a hot air balloon in Turkey? – A one-hour flight in a hot air balloon in Cappadocia can cost anything between $140 to $350. Always check what's included in the ticket before you buy. Sometimes it includes an overnight stay in a hotel, a meal, or even transfers from Istanbul.

Be aware of the fact that your flight may be canceled or delayed in case of bad weather. If you are unable to take the flight on an alternative date, it's normally no problem to get your money back.
2. Visit Goreme Open Air Museum
Don't worry if you are petrified of heights and riding in a hot air balloon in Turkey is not your idea of fun. A visit to the Goreme Open Air Museum is one of the most interesting things to do in Cappadocia, Turkey.
It is here, at the UNESCO World Heritage site, that you will learn the historical significance of Cappadocia. Even if you're not interested in history and museums, this one will blow your mind as it takes you into some of the oldest churches in the world.
Highlights of the Goreme Open Air Museum
1. Buckle Church (Tokali Kilise) – This 10th-century church is outside the perimeter of the Goreme Open Air Museum but covered by the same ticket. And since it's on the way to the museum, it's easy to include in your visit.
What makes the Buckle Church special? Well, there's the impressive frescoes portraying the life of Christ in narrative form. There's also the fact that there's an "old" and a "new" church built on top of each other in one massive cave. Both are tens of thousands of years old.
2. Dark Church (Karanlik Kilise) – The diamond in Goreme's crown, a fresco-filled "dark" church. Don't worry, the name is not due to dark forces but rather to the fact that there are very few windows. Because of the lack of light, the vivid color of the frescoes has been preserved.
The Dark Church was recently renovated. To help cover the renovation costs and limit visitor numbers to help with the preservation of the frescoes, an additional fee of 10TL is charged to enter.
Tips for Visiting Goreme Open Air Museum
Allow at least two hours for your visit. In the peak tourist season, you may need even more time.

Try to make Goreme the first of your things to do in Cappadocia, Turkey. It will give you all the historical background you will need for the rest of your visit.

As most-visited attraction in Cappadocia, it goes without saying that it gets pretty busy in the Goreme Open Air Museum. If you can, try to be there first thing in the morning or in the last hours before closing to avoid the crowds.

Wear comfortable shoes or drive. The open-air museum is a 0.8 miles uphill walk from the center of Goreme. Tip: Hitch a ride with a camel if you're not up to walking or driving.

Book a guided tour. Learning all the historical facts from a certified guide adds much more value to your visit.
3. Sleep in a Cave (read one of the hotels in Cappadocia ?)
With so many things to do in Cappadocia, Turkey and given its distance from Istanbul and Ankara it only makes sense to stay overnight. Besides, who doesn't want to stay in a cave hotel once in their lives?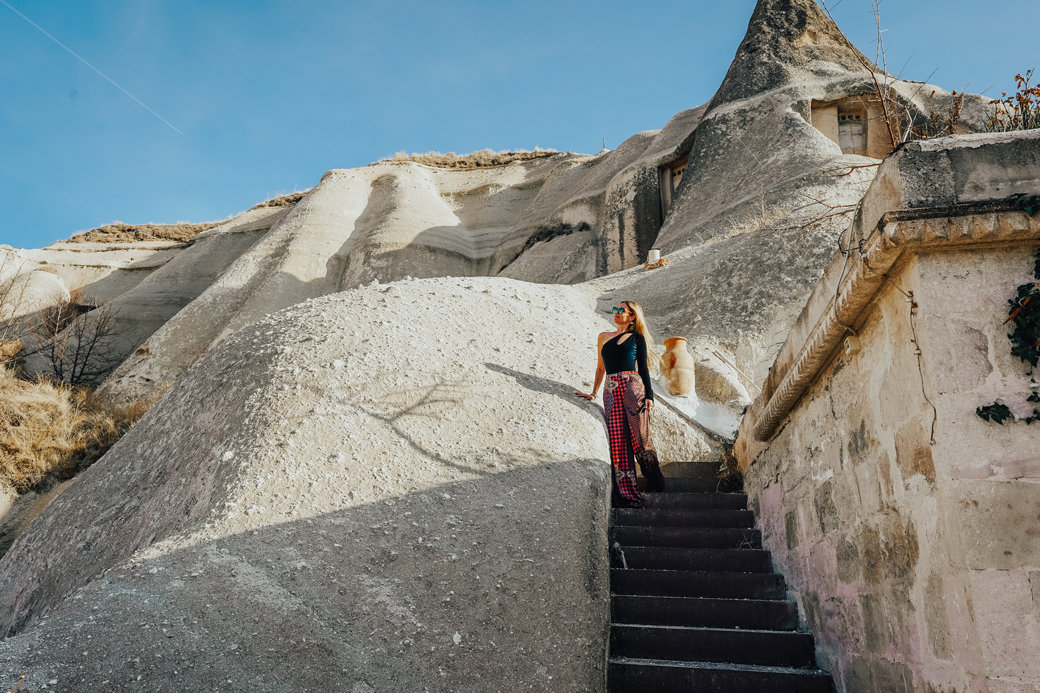 That's what makes the hotels in Cappadocia so attractive. Most of them are carved into caves in the Goreme Valley. You will find out what it's like to be a troglodyte but with all the luxuries of modern living. And did I mention Turkish hospitality?
Think Hamams (Turkish baths) and traditional coffee ceremonies combined with high-speed internet and all the comforts of home. These are all features of some of the best and most popular hotels in Cappadocia.
Tips for Choosing Hotels in Cappadocia:
Pick a hotel with a terrace from where to watch the hot air balloons take to the skies. Better still, choose one which serves breakfast from a room or terrace from where you can watch the spectacle. This experience can be even more magical than personally flying in a hot air balloon in Turkey.

Book well in advance. Most hotels in Cappadocia are boutique style (you can only fit so many rooms into a cave ?). Therefore, rooms in the best hotels sell out quickly.
Great Hotels in Cappadocia to Consider:
Sultan Cave Suites – This hotel is worth a mention as the most Insta-famous of all the hotels in Cappadocia. The rooms with their stone walls are large and cave-like. But the thing most guests Instagram about is watching the hot air balloons lift off at sunrise. The hotel's terrace is the place to be for this. And after all the excitement, a great breakfast is served below ground.
Argos in Cappadocia – Fancy a private in-cave pool? Then Argos in Cappadocia, a former monastery in the village of Uchisar, is the place to lay down your head for a night or two. There are even some green patches of lawn on some of the terraces. Once you've made yourself comfortable on a lounger on one of these, looking out over the rocky landscape, you'll find it hard to get up for all the other things to do in Cappadocia.
Hotels in Cappadocia for Under $150
Maybe your budget doesn't allow for in-cave pools and other 5-star luxuries. Fortunately, there are still hotels in Cappadocia with excellent amenities where you can stay for under $150 per night. Some of my top picks are:
Rox Cappadocia – Get up high for some of the best views of Cappadocia from this small family-run hotel next to Uchisar Castle. True, it's not as close to the hot air balloons as at Sultan Cave Suites or other hotels in Cappadocia. However, the sweeping views over Mount Erciyes make up for it. At sunrise, the balloons add beautiful specks of color to the sky.
MDC Hotel – This luxury cave hotel is in a historical building in the old town of Urgup. The authenticity and panoramic view are just two of the reasons why it's one of the most popular hotels in Cappadocia. Some of the others are that rooms come with a flat-screen TV, heated marble floors, stone fireplaces, and arched ceilings. And did I mention the option to have a barbecue in the garden?
4. Visit Uchisar and Its Castle
If you loved visiting the churches in Goreme, you must visit Uchisar and its castle. Only 5 km from Goreme, the castle of Uchisar was built on the highest point of Cappadocia, Turkey.
Don't expect to find palatial rooms like those in other European castles. What you will find are lots of cave-like rooms carved into the rock and connected to each other via stairs and tunnels. Naturally, you will also be rewarded with panoramic views of Cappadocia.
Uchisar and Goreme are connected by Pigeon Valley, a series of cave dwellings which attract pigeons in order to collect their droppings for fertilizer. If you want to, you can walk along Pigeon Valley from Uchisar to Goreme.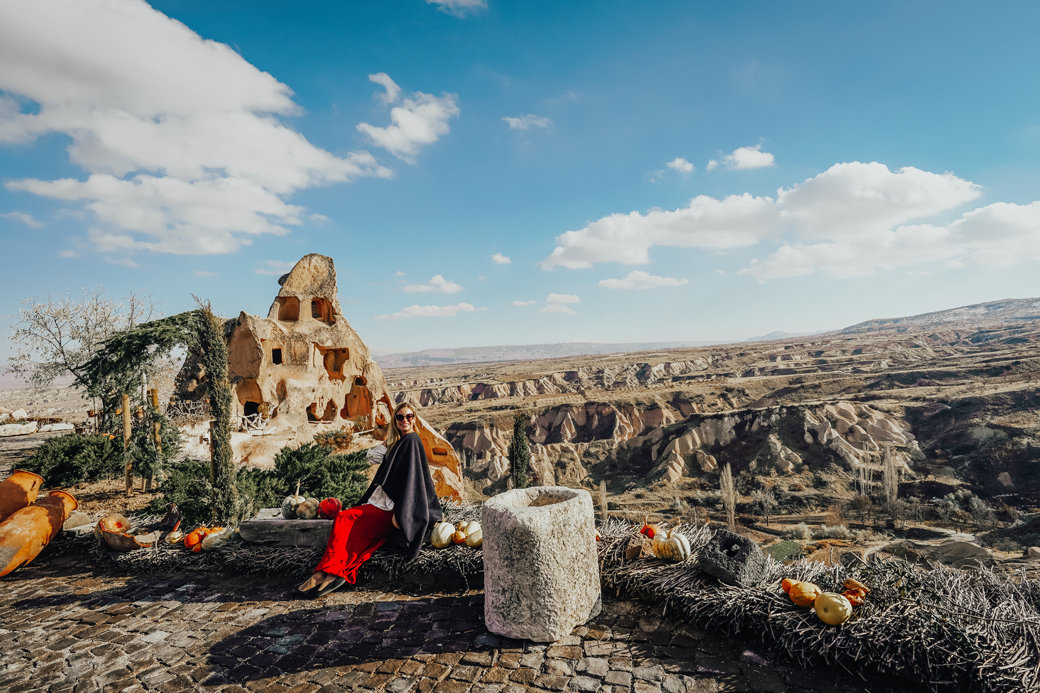 The area around Uchisar is also where you will see many fairy chimneys. The Romans hollowed them out to use as graves. If you have the time after visiting Goreme, a tour of Uchisar Castle is definitely one of the interesting things to do in Cappadocia.
Let's forget about a hot air balloon in Turkey for a while and focus on a much older form of Turkish relaxation – the Hamam or Turkish bath.
While Hamams are tied to Muslim cleaning rituals for the Turks (ancient and modern), they are essentially spas for tourists. It is one of the popular things to do in Cappadocia outside of riding in a hot air balloon or sleeping in a cave. There's nothing better than the soothing effects of a Turkish bath after a full day of playing tourist.
Some of the Turkish baths to consider in Cappadocia include:
What to Expect of a Hamam in Cappadocia, Turkey
The bathing areas in most Hamams in Cappadocia are generally mixed sex areas. However, some may have separate areas for men and women.

You will likely be given a thin, red towel to cover your body inside the Hamam. Take a bathing costume along if you are afraid the towel is not going to cover everything you want to cover.

Together with the towel, you will get some sandals to wear. They are meant to prevent you from slipping on the wet floors.

Lockers are available to store your valuables in.

Your first stop inside the Hamam is normally the sauna. There are traditional steam rooms as well as dry saunas. It softens the skin for the exfoliation phase of the Turkish bath.

After your time in the sauna, you will be greeted by a bath attendant with an exfoliating glove. Brace yourself for a proper scrub!

By now, you are almost at the best part of a Turkish bath in Cappadocia, Turkey. A quick shower to get rid of all the dead cells and heaven begins…

Lying on a heated marble slab, you are about to experience the best bubble bath of your life. In fact, it is more than a bath. It's a bubble massage.

You know the experience is almost over when the massage ends, and you are allowed to rinse the bubbles off in the shower. But don't worry, you won't be chased out before being offered a drink and a reclining chair to muster up the courage to face the outside world again.
6. Explore Cappadocia On the Back of a Camel or a Horse
After seeing Cappadocia from the air in a hot air balloon, it is time to explore on the ground. Instead of walking on your own two feet in the unbearable heat, there is a camel or horse waiting for you to get on its back.
Camel and horse safaris are becoming increasingly popular as one of the things to do in Cappadocia. It gets you away from the tourist crowds and into the countryside.
The beautiful native Anatolian horses are perhaps more comfortable to ride on than a camel for longer rides into the countryside. Various options are available, from sunrise to sunset rides in the surrounding mountains and valleys as well as shorter rides for beginners.
I loved visiting Cappadocia, Turkey. The landscape is like no other I have encountered on my travels. If you are going to be riding in a hot air balloon in Turkey, there is no better place than this one where fairytale chimneys rise into the air. As for the hotels in Cappadocia, who doesn't want to stay in a cave once in their life? It is not just a necessity to get a night's sleep, it is one of the top things to do in Cappadocia. Coupled with a Turkish bath, you would be sorry if you rushed in and out of Cappadocia for the hot air balloons alone.
Have you ever been to Cappadocia in Turkey? Did you go on the hot air balloon?
What was your favorite moment there? Comment Below!
Outfits Featured in this Post