4 Simple Ways to Organize Your Home Office
Bubbly Moments is supported by its audience. When you purchase through links on our site, we may earn commission on some of the items you choose to buy.
When working from home, it's important to have a designated area for a productive work environment. The last thing you want to see while unwinding from a long day is a stack of paperwork sitting on your dining room table. Working from home has so many advantages, but it can also overstep when it comes to a healthy work/life balance. Creating the perfect home office can help keep your work life and home life as separate as possible. But don't just take your computer to the guest room and call it a day. Having a comfortable and organized office space is vital to a productive work environment. Take time to organize and decorate your home office into a space that you love!
If we've learned anything from binging our favorite home design shows, it's that every item in a room needs a home. Giving each item a home makes it much easier to keep things in their place and prevents clutter from building up on your desk, chair, or floor. Let's face it. A cluttered room clutters your mind! And that is not a great start to a productive day. Don't let your office become the "catch-all" room for clutter.
Benjamin Franklin once said, "For every minute spent organizing, an hour is earned." Taking time to create a clutter-free office space that you look forward to spending time in will definitely pay off in the long run. Staying focused and motivated while working at home can be hard enough. But having a beautiful and organized office space to work and create will save you so much time and stress down the road. Check out these four simple ways to organize and decorate your home office!
1. Design and Organize Your Perfect Home Office
Before you begin organizing, create a vision board to help you create a productive work environment and a space that you love! For example, start an office décor inspiration board on Pinterest to help you design and organize your clutter-free home office ideas all in one place. Once you have a design in mind, start decorating!
Work shouldn't always feel like a chore. Having an organized and decorative home office space that makes you feel comfortable and happy is so important to creating a creative and productive work environment. Include warm touches that make it your space and select colors that inspire you. 
Incorporate Style and Comfort
2. Keep Desk Décor Minimal
Keeping a cluttered desk can decrease your productivity and cause unnecessary distractions. Have open space on your desk that allows you to work and create a clutter-free office. Start small if you aren't sure where to start to create an organized office space. For example: 
Remember, less is always more when it comes to desk décor. But don't forget about your office supplies that need to be accessed quickly and easily! For example, if your business requires creating shipping labels each day, make room on your desk for your shipping label printer or thermal printer and shipping labels. Find a decorative box that coordinates with your desk décor to hold the labels next to the printer. Adding a decorative box will act as décor and function for your desk and help keep a clutter-free office!
3. Use Decorative Storage Solutions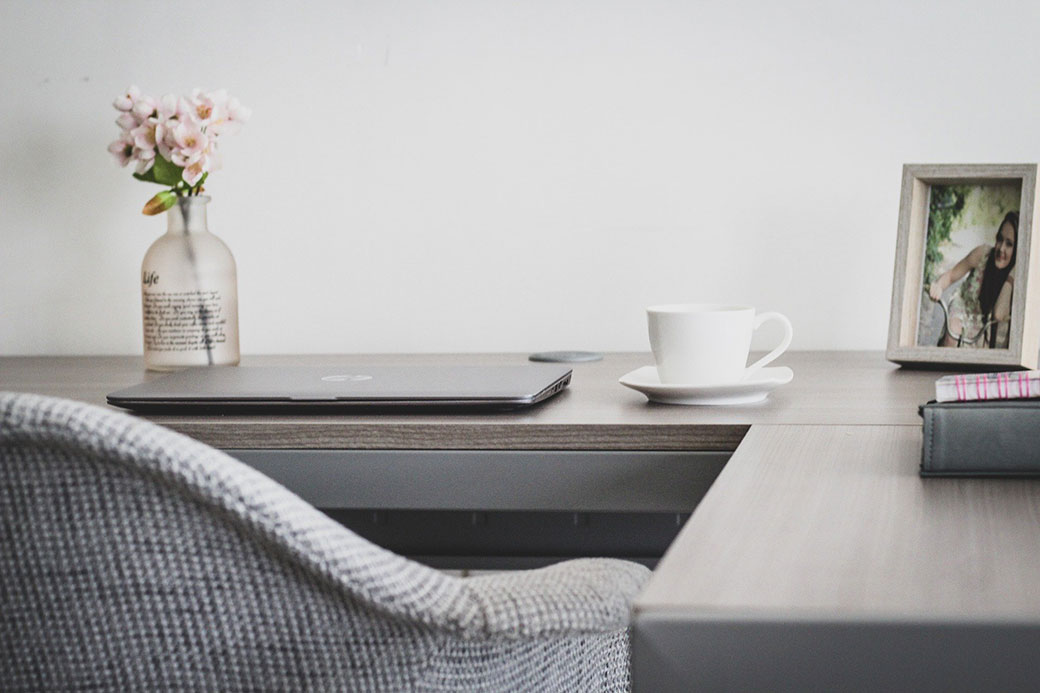 In a perfect world, everything would have an exact place, all tasks completed immediately, and every room in your home would never have anything out of place. But as we all know, life happens, and a perfectly organized home isn't the case all the time, especially in a clutter-free office. However, you can still create a system that works for you to help even "clutter" have a home. Taking time to design and organize a productive work environment that works for your needs will help keep you focused and calm.
Decorative Magazine Boxes
What would an organized office space be without magazine boxes? Magazine boxes are the perfect way to keep paperwork organized and hidden in plain sight! They look great on shelves and provide easy access to grab something quickly without going through a million files to find what you need. Organize and label each box by category for easy access.
Drawer organizers keep everything you need in their perfect place and off your desk! Pens, highlighters, post-it notes, staples, phone charger, you name it. Keep everything you need in your desk, not on your desk. The drawer organizer will help keep everything organized and prevent you from wasting 10 minutes searching for a phone charger under a bunch of clutter!
Maybe you prefer having some of your favorite office accessories on your desk and ready to grab. Using a desk organizer or a wall organizer is a great way to organize and decorate your home office by keeping your pens, stapler, post-its, and tape beautifully displayed on your desk. Purchase office accessories with colors to match your office or select items that add an extra pop of color. 
4.Utilize Wall Space Instead of Desk Space
Wall calendars and wall organizers are a great way to maintain an organized office space. They are a great way to keep unnecessary paperwork off of your desk. Use a dry erase wall calendar that includes a "To-Do" section or file holder. Add magnets to hang time-sensitive notes, invitations, or reminders. Use different colored dry erase markers to color-code your calendar for added organization. 
Keep unopened mail, outgoing mail, or high-priority paperwork organized and ready to go. For example, if you work with crafting supplies or tools, wall organizers are a great way to keep those items easily accessible. And they don't have to just be practical. They can add to your décor as well. Add small hanging plants, flowers, and photos to add a personal touch that ties into the décor of your home office. In other words, a functional workspace doesn't have to be boring! A clutter-free office can still be decorative.
Are you ready to organize and decorate your home office? Or maybe you have already created the perfect home office space and are here for additional ideas? Which home office tip are you considering trying for your space? Comment Below!
Shop More Home Office Organizers Below