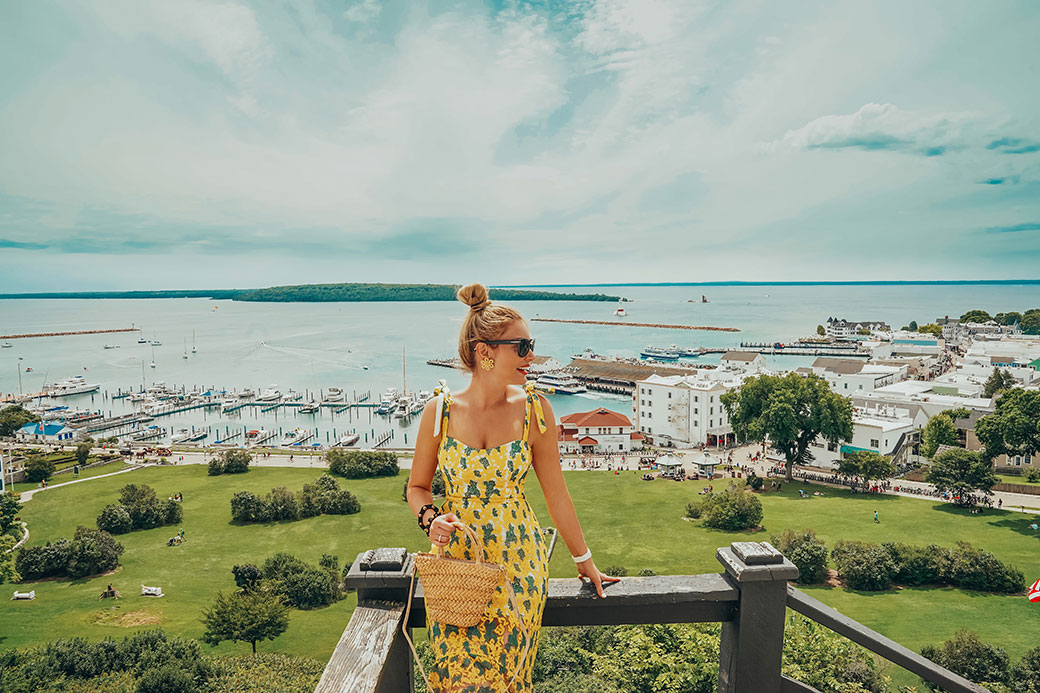 Mackinac Island in Michigan's Lake Huron has attracted holidaymakers looking to escape big city madness for the good part of two centuries.
Until this day, the island is accessible only by boat and plane. After taking the ferry to Mackinac Island, the only forms of transportation are your own two feet, bicycles, or horse-drawn carriages.
A highlight of any visit to the island is to stay in the famous Grand Hotel Mackinac, a National Historic Landmark where guests are transported back to a bygone era of old-world hospitality.
After receiving their first guests in 1887, the Grand Hotel Mackinac Island soon became known as America's Summer Place – a description that is just as valid today as it was then.  
Fascinating Facts About the Grand Hotel Mackinac Island

The 660-foot classic front porch is heralded as the world's longest porch.

The movie Somewhere in Time, starring Christopher Plummer, Jane Seymour, and Christopher Reeve, was filmed here in 1979. To this day, a Somewhere in Time weekend is held every year, complete with a period costume parade and screening of the film, which is set in 1912.

Famous people who've stayed at the Grand Hotel Mackinac include inventor Thomas Edison, author Mark Twain, and five US presidents.

No two of the 388 guest rooms are alike. 

The swimming pool is named after Esther Williams, a well-known actress and swimmer who starred in This Time for Keeps, a 1947 movie that was filmed at the Grand Hotel.

It's the only hotel in the world where a horse-drawn carriage takes the place of a golf cart to transport players between the front and back nine of the 18-hole golf course. That's why playing golf on The Jewel is one of the sought-after things to do in Mackinac Island.
6 Reasons to Stay at the Grand Hotel Mackinac
A member of Historic Hotels of America, the Grand Hotel has received many accolades over the years. Some of the most recent ones are:
Best Historic Hotel by USA Today
Best Hotel in Michigan by Travel + Leisure
Top 5 Midwest Resort by Condé Nast Traveler
Editor's Choice Best Grand & Boutique Golf Hotels by Golf Digest
Readers of Travel + Leisure Family also rated Grand Hotel as one of the ten kid-friendliest resorts in the U.S. and Canada.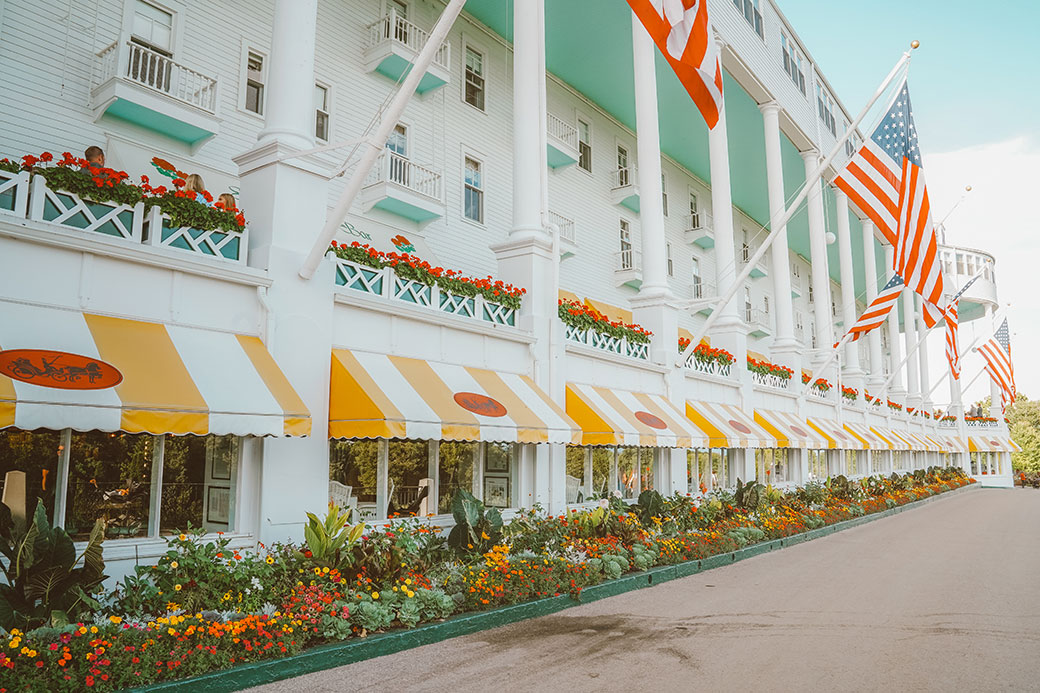 Famed interior designer Carleton Varney of Dorothy Draper & Company in New York uniquely decorated each of the 388 guest rooms. That means different themes, furniture, colors, fabrics, and artwork.
Forty suites carry their own names, including seven suites named for US first ladies: Jacqueline Kennedy, Nancy Reagan, Betty Ford, Barbara and Laura Bush, Rosalynn Carter, and Lady Bird Johnson. Or you could opt to stay in the Dolly Madison Suite, the Napoleon Suite, the Hollywood Suite, and the Lincoln Suite.
The Grand Hotel Mackinac doesn't just feed people – they make dining an experience to remember for a long time.
Every one of the 14 hotel bars and restaurants has a distinct character – from The Jockey Club at the Grand Stand to Woods Restaurant with its interesting mixture of Tudor and Bavarian influences. The Grand Hotel Mackinac's kitchen staff turn out up to 4,000 meals per day.
But it's Sadie's Ice Cream Parlor that no one can resist. The jewel in the crown of the big variety of delicious ice cream is no doubt the Grand Hotel Pecan Ball Ice Cream named after the hotel's signature dish. 
Did you know? More than 60,000 Grand Pecan Balls, made with Michigan's Hudsonville vanilla ice cream and the hotel's original fudge sauce, are devoured every year.
While the food is great, that's not the only thing that draws people to the restaurants and bars of the Grand Hotel Mackinac Island. A full-time staff of musicians and singers is employed every season to entertain guests every day.
You can enjoy the beautiful background music while you dine in the main dining room before picking up speed with some dancing to the tunes of the Grand Hotel Orchestra in the terrace room. Or listen to a harpist perform popular classics in the parlor.
Before the first guests arrive at the Grand Hotel in Mackinac in May each year, approximately 21,000 tulip bulbs (planted the previous October) have started to bloom. They provide a feast for the eye together with around 2,500 geraniums in 260 flower boxes and 3,300 daffodils spread out in the gardens.
Did you know? The Grand Hotel on Mackinac Island is only open for six months of the year – roughly from May to October. The flower spectacle that awaits guests is one of the reasons why it's also referred to as America's Summer Place.
6. Activities for Everyone
There are so many things to do in Mackinac Island's Grand Hotel that you may want to extend your stay just to try your hand at everything. Here are some of the activities offered, both in and outdoors:
Lawn games like croquet and bocce in the Tea Garden.
Golf on The Jewel, the resort's 18-hole golf course.
Take advantage of tennis and pickleball lessons.
Relax and be spoiled at Astor's Salon and Spa.
More Things to Do in Mackinac Island
While the Grand Hotel is a destination in itself, there are more things to do in Mackinac Island for adventurous people. Some of the highlights on the island include:
Fort Mackinac

– Founded in 1780 and listed in the US National Register of Historic Places, this cluster of military buildings has guarded the Straits of Mackinac since 1780.
Mackinac Island State Park – Discover the most scenic spots on Mackinac Island along the many nature trails that crisscross it. A must-see is the limestone Arch Rock formation from where you have beautiful views of Lake Huron and Bois Blanc Island. There are also Sunset Rock, Friendship's Altar, and Eagle Point Cave to visit.
Mackinac Village – The historical architecture from the Gilded Age era has earned Mackinac the status of National Historic Landmark District.
Fudge Shops

– Mackinac Island isn't called the

fudge capital of the world for nothing. There are no less than 13 fudge shops on the small island, each with their own secret recipe that requires 10 tons of sugar to be imported every week! Who would have thought that tasting fudge would be one of the most popular things to do in Mackinac Island?
Ferry to Mackinac Island
Catching a ferry to Mackinac Island is easy. There are two companies with ferries to Mackinac from St. Ignace and Mackinaw City – Shepler's Mackinac Island Ferries and Star Line Mackinac Island Ferry.
To help you plan and book ferries to Mackinac Island, we've answered the most important questions below.
How much does it cost to take a ferry to Mackinac Island?
The roundtrip price starts at $27 per adult and $16 for children between the ages of 5 and 12. There is an extra charge for strollers, bicycles, and burleys. 
What's the best ferry to Mackinac Island?
There's not really a right answer to that question. Both Shepler's Mackinac Island Ferries and Star Line Mackinac Island Ferry are well-established and reliable. Which one to take depends on your personal requirements.
How long is the ferry ride to Mackinac Island?
This depends on which ferry you take. Hydro-jet ferries to Mackinac can get you across the straits in 16 minutes only. If you opt for a scenic detour under the Mighty Mackinac Bridge it will take a bit longer.
Have you visited Mackinac Island? What did you love the most about the island?
What was your favorite activity? Let us know in the comments below!